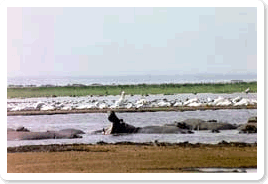 Description: Lake Manyara has a considerably different landscape from any of the other parks. Picture lush woodlands and the beaches of this Rift Valley lake where giraffe, elephants and wildebeest enjoy an endless supply of water. You will often see these enormous animals in the water, sitting, sipping or just cooling off. Due to this unique habitat, there are hundreds of bird species able to live in the forests and the ultimate site-seeing prize of this area is the tree-climbing lion.
Although this park is relatively small, it is still quite impressive. Most of the park is covered in forest or thick bush, sometimes making it difficult to spot wildlife. On shorter itineraries, we usually recommend omitting Lake Manyara, but it still gets visited frequently because of its convenient location between Tarangire and Ngorongoro Crater. This is one of the two parks  where you can do night game drives within the park boundaries.
Location: Approximately 2.5 hours from Arusha on the road en route to the Ngorongoro Crater. Accommodations can be utilized in Mto Wa Mbu near to Manyara or up the hill in Karatu which is about 30 minutes beyond Manyara.
Things 2 Do: Game Drives, Mountain Biking, Forest Hike, Night Game Drive, Nature Walk
Time: Can be visited in one day, but biking or hiking require a separate day. Might be excluded on a short itinerary.
Animals:Elephants, Wildebeest, Buffalo, Hippo, Impala, Bushbuck, Waterbuck, Klipspringers, Zebra, Giraffe, Mongoose, Warthog, Leopards and the famous tree-climbing Lions, Blue Monkeys, Vervet Monkeys, Baboons, and over 380 bird-species including impressive flocks of Flamingos feeding on the lake's algae.
Accommodations
$
A2T Camping (public campsites)
Bougainvillea Safari Lodge (Karatu)
Country Lodge (Karatu)
Eileen's Trees Inn (Karatu)
Kudu Lodge (Karatu)
$$
Bashay Rift Valley Lodge
Kirurumu Manyara Lodge
Lake Manyara Wildlife Lodge
Ngorongoro Farmhouse (Karatu)
Ngorogoro Farm House Valley Lodge (Karatu)
Tloma Lodge (Karatu)
$$$
Escarpment Luxury Lodge
Kitela Lodge (Karatu)
Lake Manyara Serena Lodge
Neptune Ngorongoro Luxury Lodge (Karatu)
Plantation Lodge (Karatu)
The Retreat at Ngorongoro (Karatu)
$$$$
Chem Chem Lodge
Gibb's Farm (Karatu)
Lake Manyara Tree Lodge
Manyara Ranch Conservancy
The Manor at Ngorongoro (Karatu)
Visit the Hadzabe at Lake Eyasi
Lake Eyasi Accomodations
$$
Tindiga Tented Camp

 $$$

Lake Eyasi Safari Lodge
Kisima Ngeda Tented Camp
Region
---
---